She is the little sister of the priestess Kikyo. (Although, after 50 years, she now looks older.) She is now the priestess for the town she and Kikyo lived in. She's the one who figured out that Kagome was Kikyo's reincarnation and gave Inuyasha the rosery beads that allow Kagome to have Inuyasha "sit".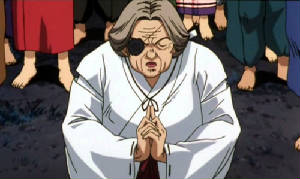 Kirara
The pet of Sango. She's a cat demon who can grow large and fly!

Totousai
He rides a three eyed cow, that flies. He made both Tetsusaiga and Tenseiga for Inuyasha/Fluffy's dad.
Kagome's Friends
They live in her era, and go to her school. The boy is Hojo. He has a major thing for Kagome. (what guy in this show dosn't?)